Nozomi Additional Outfits + Source File
A downloadable asset pack
This pack contains additional outfits for the character sprite, Nozomi. If you haven't already, you may check out the base version of this character which is completely free.
Free Character Sprite for Visual Novels (Nozomi)
In this additional outfit pack for Nozomi, you'll get the following outfits -
1. Casual Outfit with Apron
2. Only Apron
3. Bikini
4. Pajamas
5. School Winter Outfit (Sweater)
6. Stylistic Outfit (2 Types)
7. Top with Jeans
All of the outfits are available with 19 different expressions.
Available Formats:

1. PNG - 2160p
2. WEBP - 2160p

3. PNG - 1080p
4. WEBP - 1080p
The source file is also available for purchase if you require any modifications or additions to this character. The source file was created in Clip Studio Paint Pro and it is available in .clip file only.

License & Terms of Use:
This character sprite has a royalty free license. Meaning, you can use this character sprite for both personal and commercial projects, as many times as you want. Giving credit is not necessary but would be appreciated.
You can edit and modify these images. However, you cannot resell or distribute the images in the form that it is downloaded or even when it is modified.
Still not sure if it is okay to use them?
If you are using this character sprite for your own visual novel or any other game, you have nothing to worry about. You can go ahead and make your visual novel using this character sprite and even sell your game.
Thank you for your support.
Purchase
In order to download this asset pack you must purchase it at or above the minimum price of $5 USD. You will get access to the following files:
Nozomi_1080p_PNG_Additional.zip
47 MB
Nozomi_1080p_WEBP_Additional.zip
9 MB
Nozomi_2160p_PNG_Additional.zip
131 MB
Nozomi_2160p_WEBP_Additional.zip
22 MB
if you pay $10 USD or more
Comments
Log in with itch.io to leave a comment.
Hi Potato :)
My visual novel is finally out :)
That's awesome :D I'll check and have a nice read :)
hello Potato :) i wanted to ask the other characters you plan to give them summer clothes/swimwear too right? i do not want to cross line asking this , if i am then i'm sorry
Yes I have plans on giving beachwear/swimwear clothing to every character and few other outfits aswell but unfortunately, this may take some time.
I'll try to make the beachwear first and update all the packs :)
What I'm currently doing:
I've made a female teacher, a sports teacher and I'm going to draw two more teachers and a principal, I'll publish them together in one pack soon
glad to hear about the swimwear clothings :) yes i understand it takes time don't worry :)
that's a lot of teachers :D the perfect things for a school visual novel :D school is something that comes up often in visual novels :)
can't blame them though school life is usually better than adult life and i like schools visual novels :D
hello Potato :) i have not done much yet in the story but i thought to do this screenshot for you , i'm still unsure of the roles for other characters than Nozomi in my story but that's fine i got all the time i want :)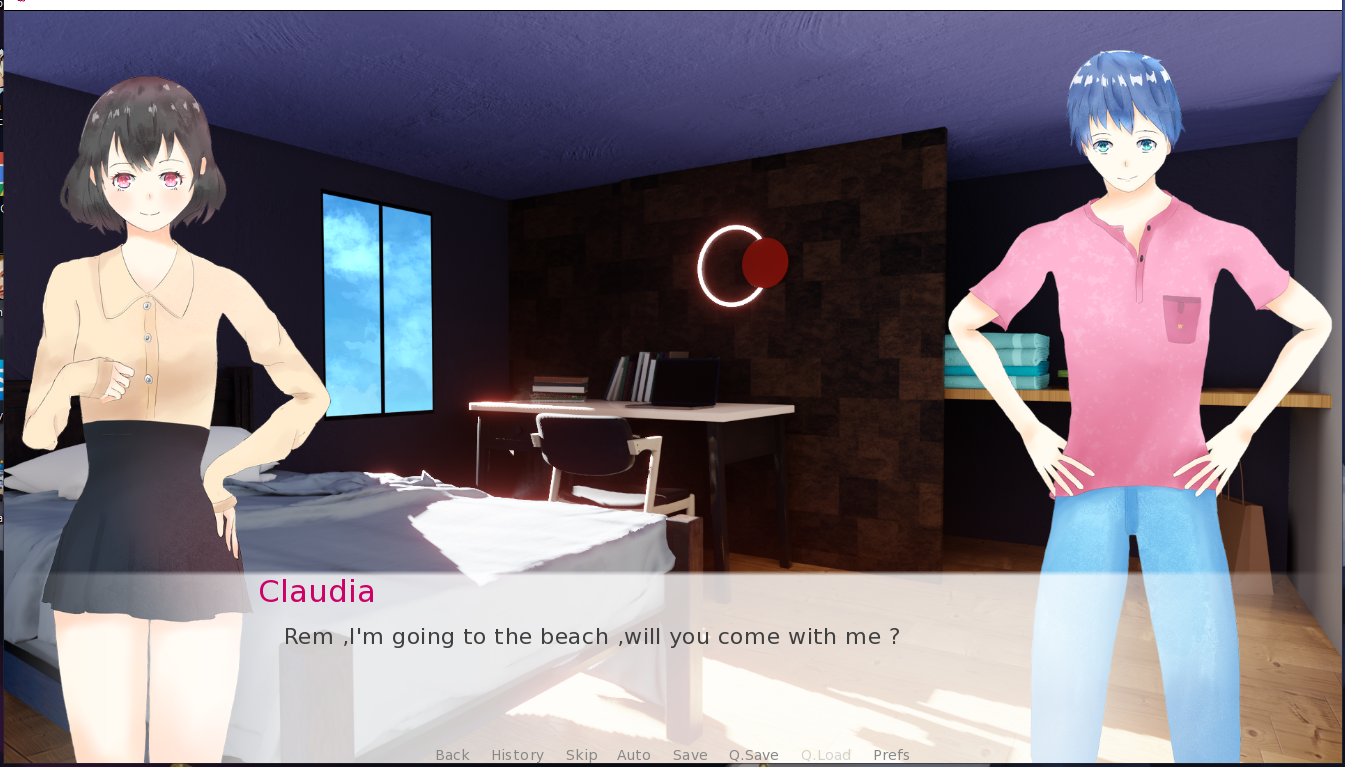 That's cool :) Take your time to decide on the roles, it's better to think everything through :)
Ping me up when your game will be done!
yes it takes time to think about everything within my ability too , i'll be sure to tell you once it's done :)
lot of clothes are always welcome i think for a character :) you did a good job :) what's that source thing?
Thank you :D
The source file is the original file in which I made this character, if you have the software 'Clip studio paint', you can open the file and make any modifications or additions to your liking.
i see :) i might take a took but i doubt i'll do anything with it i'm not really good with computer things hehe
it's great to have so much expressions too :)
The source file is handy if anyone would like to add their own outfits or expressions or change hair colour or eye colour, etc.
If you ever get clip studio, you may try it out :)

Thank you once again!
i guess i will see with time but i'm not really confident in myself for that kind of things :)
but yes i understand it's a good thing to have :)